Tamako Market Ep 1:
Tamako's family owned a Mochi stall in the Tamaya shopping district. Everyone know her and her neighbour, Oji whose family also owned a Mochi stall has a crush on her.
It's not my bird!
One day, Tamako found a bird, Dela Mochimazzi who is able to talk and claimed to be the owner of a prince. Dela is in Japan looking for a bride for his prince and decided to tag along with Tamako.
Dela follow Tamako home and everyone either abuse him or love him. As the days goes by, Dela ate too much and was unable to fly back home. Furthermore, it is New Year's Eve and everyone was so busy and they have forgotten about Tamako's birthday...
From the people who gave us K-On and Hyouka has given us another show which I am sure it will be a hit. The people in the Tamaya shopping district are going to have their lives change because of a talking bird. Tamako is lovable however she seek to find a song that her late mother used to sing to her. The rest of the cast is fun to watch especially the two fathers who are rivals in Mochi and Oji has a crush on Tamako. Will it become a Romeo and Juliet scenario? I don't think so...
GJ-Bu Ep 1
: Meet the members of GJ-Bu. A group of students who never do anything significant other than hanging around and relaxing.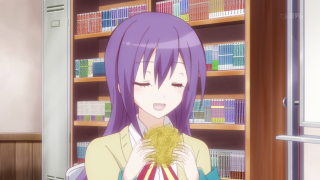 You do not eat instant noodles like that!
Mao, the leader of the group however her petty size didn't take anyone seriously and she love to read Shouen manga. Shion, the genius prodigy beat the current world chess champion online, Megumi who is the nice girl with a sharp tongue, Kirara who does nothing but eat meat and Kyoya, the only guy in the club who is treated like a punching bag.
The whole episode is just them relaxing in the club-From replacing the light bulb, getting rid of a tarantula and fighting over food. It is just a normal day for the GJ-Bu.
Love your bunny ears!
Mondaijitachi ga Isekai Kara Kuru Sou Desu yo Ep 1:
Izayoi, Asuka and Yo have special powers however they are treated as outcasts in society. One day, they received a mysterious letter and was transported to the "Little Garden" where everything is settled through games.
A rabbit girl named Kurousagi become their host and after the teens won their first game using unusual methods to win. She led them to her community which is dubbed "Nameless" however Izayoi stray off and even defeat a water god by brute strength. At the same time, Asuka and Yo met a rival gamer without Kurousagi's guide...
Another show about landing in another world but instead of one, we have three human and they are not your regular protagonists. Izayoi is a delinquent with super strength. Asuka is a rich girl who can force people to obey her. Yo can talk to animals and has a cat accompanying her. However their attitudes is left to be desired given that the title of this show is called "Do Problem Child come from another world?"
Kurousagi's agenda in bringing them is to help her community which I believe it is the worst group in Little Garden. Given that everything is settled by games and wages, you can tell there will be a variety of contests and our three main protagonists are going to do all sort of ways to win their games since they are anything but normal...