The girls learned that Makoto is acting in a film version of Snow White and she got the leading role. However Dabi told them that Tamaki, a senior actress who played the stepmother gave Makoto the cold shoulder when they first met.
Furthermore, Makoto spend the nights searching for the queen after her Idol job in the day. The girls suggested to follow Makoto to the film set which Mana got an eyeful after seeing several celebrities in the studio.
During filming, Makoto could not focus in her acting which Tamaki reprimanded her and even told her to quit the film if she is not interested. Dabi was furious but Makoto didn't mind. Mana suggested to leave the search for the queen to them so that Makoto could focus on the filming.
She agreed and told them to use the Royal crystals as a beacon to search for the remaining crystals. Makoto returned to the set and her acting improved after that. Meanwhile, Regina complain of not getting any butter corns and went to the human world instead.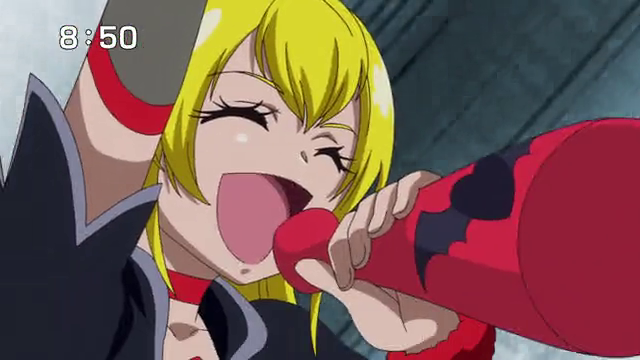 Cut!! Cure Sword, you are suppose to get hit by the Jikochu!
Say what!?
Regina appeared at the set and fire a beam at Tamaki which turned her heart into a Jikochu. The others arrived and transformed together with Makoto. Cure Heart tried to use Heart Shot to purify the Jikochu instead the beam reflected back at them, rending useless.
Everybody Wink!
Cure Sword told the others not to give up and focus their attacks together. Suddenly Ai-Chan appeared and she gave them a new Lovies to use. They combine with the Love Heart Arrow for their group attack-Precure Lovely Force Arrow and defeated the Jikochu.
Regina congrats the girls and introduce them as Princess Regina, daughter of King Jikochu. She told them they will meet again and disappeared.
Soon, the film was finished and Tamaki acknowledge Makoto as a fine actress and gave her battered script as a token of friendship. The script revealed a new Royal Crystal and closer to finding the queen...
It is a pretty good episode for Makoto and how dangerous Regina can be. First, Makoto is totally stressed out in finding the queen night after night which led her to fall asleep during class. Next, she learn that being an actress is tough as she see Tamaki performing well and the passion she have. Furthermore, Tamaki's script was all battered while Makoto's script still looked new. It showed how much effort both actresses have put in for the film.
We get to see Regina in action and she is extremely dangerous! She doesn't even need a tainted heart to make a person become a Jikochu. All she need is just fire a beam which immediately turn anyone good or evil into a Jikochu just like her father who turned the people of Trump Kingdom with a blink of an eye.
People complaining that Cure Heart's attack saved the day every time will be glad that we get a team attack and I am liking it! Especially the wink which the four girls did plus the firing was awesome!
So next week, Regina make her next move as she plan to destroy the friendship between Mana and the rest by making Mana her only friend. What could get worse than that!? Oh yeah, Happy Mother's Day to all the Mothers in the world!